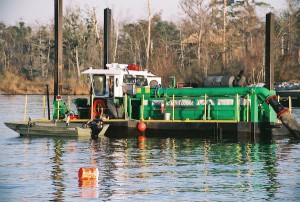 Magnolia Dredge & Dock, LLC provides quality marine construction, dredging and civil construction services to our customers throughout the United States. Our fleet of hydraulic dredges and heavy equipment is truck transportable and can be shipped to your project site to facilitate your needs.
The founder and senior management of Magnolia Dredge & Dock, LLC have more than 30 years experience in the dredging / construction industry. Magnolia Dredge & Dock, LLC was formed and incorporated to provide hydraulic dredging services. We have since added heavy civil and marine construction to the portfolio of services we offer our customers. Our primary focus is on projects designed for creating and / or renourishing beaches, reclamation of land, shoreline protection, levee construction, retention basin construction, wetlands creation and restoration, dewatering operations, deepening and maintaining waterway access channels, cleaning lakes and ponds, dredging and management of tailing ponds, and marina creation and revitalization. Our company's continual growth and expansion, coupled with our proven record of consistently providing timely quality services and customer satisfaction, has led to our current bonding capacity and our reputation as an honest, dependable prime contractor.
Throughout our history, Magnolia Dredge & Dock has been recognized for providing quality project management services. We are headquartered in Mandeville, Louisiana. We serve as a prime contractor or subcontractor on numerous federal, state and local government, and private projects throughout the United States.
We own and / or operate general construction equipment, in addition to specialized dredging equipment such as truck transportable cutter suction dredges, auger style dredges, various boosters, dredge tenders, crew boats, barges, and piping equipment. We are continuously expanding our equipment fleet to meet the demands of contracts.
The success of Magnolia Dredge & Dock, LLC is due to its employees' dedication to excellent work, customer service that exceeds expectations, and a safety program that has led to zero accidents.
Open communication and integrity empower Magnolia Dredge & Dock's workforce. Today we are committed to deliver exceptional project performance to ensure the success of our clients and their projects, as well as growing the most capable people in the industry. We support our employees in personal and career development, as we understand the entire Magnolia Dredge & Dock organization realizes the benefit of their professional and technical advancements.
Magnolia Dredge & Dock, LLC goes beyond providing quality construction services safely and efficiently; we cultivate and maintain strong relationships with our customers. Repeat business is the ultimate measure of the commitment of our people and the quality of our work.