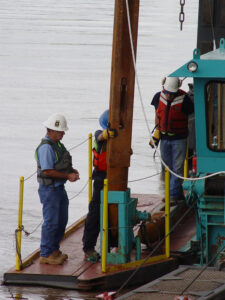 I would like to take this opportunity to express formally the safety policy under which Magnolia Dredge & Dock, LLC has conducted its operations since 2009, and to emphasize a renewed interest in the areas of accident prevention, employee protection and loss control.
The following corporate philosophy should guide all employees:
Control of accidents and efficient production go hand-in-hand. A good accident record is evidence of a good operation, whereas a poor accident record is most certainly an indicator of poor job performance. Our goal is to achieve a zero (0) accident record in the workplace. We require that all employees follow the guidelines set forth in the Employee Handbook, to include, but not limited to the use of hand tools, power tools, diesel engines, gasoline engines, hydraulic equipment and vehicles.
Managers at all levels have as a primary responsibility the safety and wellbeing of all persons who work for them and under their control. Each manager and supervisor must recognize sage work practices as an integral part of each job undertaken, so that safety is not only planned into each job, but also supervised by the same careful forethought and proficiency as other aspects of the work, such as job specifications, labor and material; and each supervisor must personally accept the responsibility of safety unconditionally.
Each employee, on the other hand, must assume the responsibility for full cooperation in the measures taken for his or her safety and protection. Only you, the individual employee, can put safe practices into everyday operations. Your job knowledge and experience, plus a right mental attitude toward safety, will go a long way to preserving safe operations within the Company.
We strive to be a good steward of our environment as we make every effort to execute each construction contract with the most efficient equipment available to get the job done, while our crew focuses on achieving the milestone of zero (0) spills in the process and maximize recycling waste. Reuse and recycling of all hydro-carbon based materials is a priority.
Micheal Johnson Member / President Magnolia Dredge & Dock LLC